Characteristics of the CompuMill System:

No G-code or M-code required for programming

True GUI (User Graphic Interface)

Multiple programming methods built-in

Soft and Hard Emergency Stop Buttons

Sensor detects the rotation speed of the spindle motor and is able to respond appropriately to abrupt changes in rotational speeds (optional)

Optional accessories include touch sensor and indicator interfaces

Optional accessory includes programmable rotary table


Inside of CompuMill

Features of CompuMill Navigator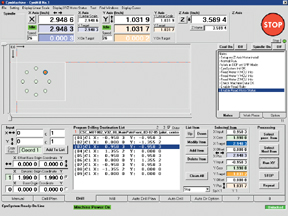 Programmable computer-controlled coolant dispensing system

Three different ways of tracking the target position

Changing motor speed on the fly during job processing

Synchronous toolpath display

Variable view window with zoom in and out capabilities

Multiple programming methods built-in, such as Off-Line programming, Single Move, Drilling and Milling

Multiple tool offsets in the same process

User definable milling method library


Accessories - Programmable Rotary Table

Programmable rotary table can cut gears with any number of teeth without any indexing plates. The resolution of positioning is 0.01 of a degree. The programmable rotary table can be directly linked with our system for continuous helical milling. It is also a stand-alone unit that can be programmed without linking to a computer system.


Features of The Rotary Table: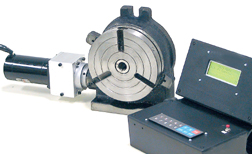 The work table is graduated 360 degrees around its circumference and is driven by a precise Worm and Gear, providing a 90:1 reduction ratio.

One turn of the handle moves the table through 4 degrees.

Both the upper and the lower surface are precision ground.

The dial is graduated in divisions of 1 minimum and the vernier scale allows readings down to 10 seconds.

The Worm is hardened and precision ground to minimize wear of the worm gear.